Simple, affordable and flexible
The Expense Approval System workflow contains four "states": Draft, Pending Approval, Approved and Rejected.
Please see below for a step by step guide to completing the expense approval process.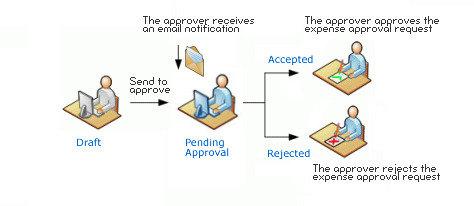 1. A user creates a new expense approval request.
2. The user submits the request for approval ("Send to approve" button).
3. Before approval of the expense request by an approver, the user can make changes to the expense request form.
4. The approver receives an email notification of the request and reviews the expenses.
5. The approver approves or declines the expense approval request.
6. If the approver approves the expense approval request, the process is complete.
7. If the approver rejects the expense approval request, the user must edit and resubmit the request, until the approver gives final approval.

Quick steps to start using Expense Approval System
As Administrator:
1. Configure Dictionaries (section Administration->Dictionaries)
2. Configure display settings (section Administration->Settings)
3. Assign Manager and Administrator roles (section Administration->User Roles ). There is no need to assign regular User role, because this role is given by default -every user with access to the Sharepoint parent site (where the app is installed) also has access to this app as regular user.

As Regular User:
1. Click "Create new" tile on the main page and submit request.
Data security
App is 100% SharePoint-hosted - all data is stored securely on the customer's SharePoint environment.
App's data is never leaving your SharePoint env, we don't have access to your data and we never see it.
Promotions&Bundles
* - Contact with us before purchase to receive promo codes.