Track, analyze and manage timesheets more effectively
The TimeSheet Plus workflow consists of four states: Pending Approval, Approved, Rejected and Cancelled.
Please see below step by step guide to completing the approval process.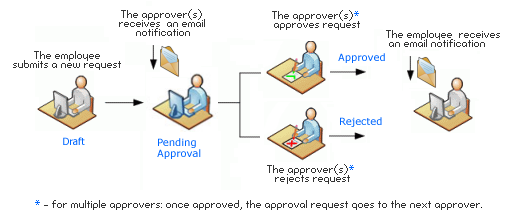 1. A user creates a new timesheet.
2. The user submits the timesheet for approval ("Send to approve" button).
3. Before timesheet is approved by an approver, the user can make changes to the timesheet.
4. The approver(s) receives an email notification of the request.
5. The approver(s) approves or declines the approval request.
6. The user receives an email notification of request status (approved or rejected).
7. If the approver(s) approves the request, the process is completed.
8. If the approver(s) rejects the request, the user must edit and resubmit the request, until the approver(s) gives final approval.

When you enable integration module, requests are automatically exported to native SharePoint list, enabling to leverage the full potential of SharePoint. Sharepoint list can be integrated with many systems by using Microsoft Flow, used as data source for Power BI (reporting services) or displayed on different site via Web Part. Click here for more information.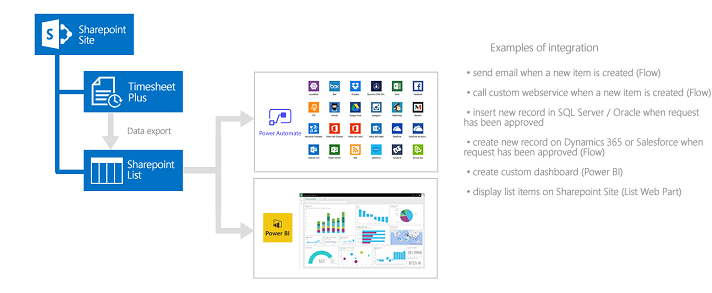 Actions available to system users
Actions available to regular employees: 
• Create, edit and submit timesheet for approval
• View own timesheets

Actions available to managers:
All actions of regular employees plus:
• Approve or reject timesheets waiting for approval*
• View all the timesheets of subordinates
• Edit and delete approved timeshets

Actions available to administrators:
• Customize system settings 
• Assign user roles and user profiles
• Define dictionaries (projects,categories)
• View all the timesheets

* - depends on system settings
Quick steps to start using Timesheet Plus
As Administrator:
1. Configure settings (section Administration->Settings) :
• General Settings tab 
• Custom form fields tab 
• Custom timesheet fields tab 
2. Assign user roles: Manager and Administrator (section Administration->User Roles ). There is no need to assign regular User role, because this role is given by default -every user with access to the Sharepoint parent site (where the app is installed) also has access to this app as regular user.
3. Create user profiles (section Administration->User Profiles )
4. Create or edit projects (section Administration->Projects)
5. Create or edit categories (optional) (section Administration->Categories)

As Regular User:
1. Click "Create new" tile on the main page and submit request.

If you need help with configuration, please watch video guide
Promotions&Bundles
* - Contact with us before purchase to receive promo codes.