Step 1) As app administrator, go to the Administration->Time-Off->Settings->tab "Integrations" and create integration list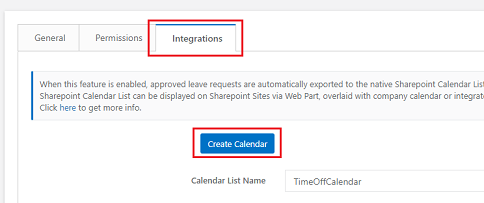 Step 2) Go to the SharePoint Site, click "Edit" in the top-right corner (you need to have required
permissions to see edit option), select calendar list and click "Add"



Step 3) Click Insert=>Web Part=>Apps, select calendar and then click "Add" to add webpart.



Optionally: Filter calendar entries (i.e. display entries only from particular department or time-off type)
a) Click on Web Part Properties and "Edit current view"



b) On the "Filter" section select filter conditions and click "OK" to save.




Notices:
• calendar list is added to the parent SharePoint Site (where the app is installed), so calendar can be displayed as web part only on the parent SharePoint Site
• export works only for newly approved leave requests (doesn't work backward), so after creation calendar list is blank.